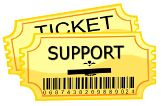 Need Help with hardware, software, pricing of electronic items, or do you need to know how-to work with a program or maybe you just can't find answers searching Google or Bing? Open a tech support ticket.

About Our Ticket Support System
Every support request is assigned a unique ticket number which you can use to track the progress and responses online. For your reference we provide complete archives and history of all your support requests. A valid email address is required to submit a ticket.
Send us your detailed questions.
Within 24 hours or less, we will respond with guidance to solve the problem. Some solutions may be simple enough to fix it yourself. There is no additional charges or follow ups if the solution does not involve any further communication.
Open A New Ticket
Please provide as much detail as possible so we can best assist you. To update a previously submitted ticket, please login or register.
Check Ticket Status
We provide archives and history of all your current and past support requests complete with responses.
One-on-one remote solution
If further guidance is needed beyond this, you can request the one-on-one remote solution. This will give you the best service available to quickly remedy your problem.
Fast Track
Get priority support services if you pay our 1st hour minimum rate. Your inquiry will be moved to top of the list.